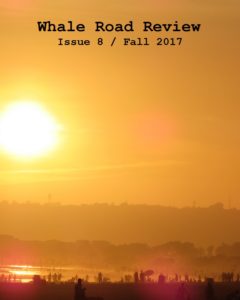 Our Fall 2017 issue is here, and we find ourselves stunned by it. In the midst of natural and human-made disasters, we're glad to share writing that immerses us in beauty and profound human connection. In the words of Joannie Stangeland's poem from this issue, "We regret the dark and learn / again to live in the dark."
Issue 8 features new poetry and short prose by Carol Berg, Sarah Bigham, Darren C. Demaree, Erika Dreifus, Howie Good, Avery M. Guess, Mary Harpin, Ariel Kaplowitz, Wilda Morris, Bettina Tate Pedersen, Jeremy Michael Reed, Sarah Dickenson Snyder, Joannie Stangeland, Annie Stenzel, Bonnie Rae Walker, Paul Willis, and Changming Yuan.
In pedagogy, John Gerard Fagan shares a genre fiction exercise that teaches students to collaborate and revise, and Marjorie Maddox and Gary R. Hafer offer a detailed exercise on place-based writing.
Sarah Ghoshal, Theric Jepson, Nate Logan, and Kathrine Yets review new poetry and fiction by N. West Moss, Sjohnna McCray, James Goldberg, Marisa Crawford, and Cristina Norcross.
We hope these pieces move you as they have moved us. Thanks for reading.
Leave a Comment