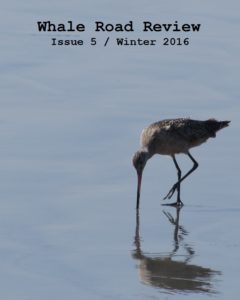 Our Winter 2016 issue is here! Happy first anniversary to Whale Road Review!
This issue includes love poems that make use of burrito shops and Facebook, a Nintendo Power erasure, cooking shows, walking dolls, music, and a surprising variety of birds. It will sing you into the new year.
Issue 5 features new poetry and short prose by Jordi Alonso, E. Kristin Anderson, Tara Shea Burke, Gabrielle Campagnano, R. S. Carlson, Joan Colby, Barbara Crooker, Rachel Dacus, Ken Hada, Freya Jackson, Karen Bjork Kubin, Mary Makofske, Ashley Mares, Julie L. Moore, Erin Elkins Radcliffe, Judi Rypma, LeighAnna Schesser, Scherezade Siobhan, Karissa Knox Sorrell, and Paul Wiegel.
Daniel Heslep reviews the new posthumously-published poetry collection by Larry Levis, and Stacey Balkun reviews a new poetry collection by Kristin LaTour.
In honor of our journal's first anniversary, three of our staff offer our own contributions to the Teachers' Lounge. Our pedagogy papers feature a writing laboratory in the classroom, fieldwork beyond the classroom, and permission to write anything anywhere.
We hope you find something to love here. Thanks for reading!
Leave a Comment