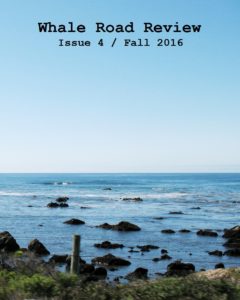 Our Fall 2016 issue is here! It's not really autumn yet, but we keep seeing posts about pumpkin spice lattes, so we're close enough.
Some of the pieces in this issue call out to September specifically. Some of them are haunted by lost lovers, mothers, or children. You will find a mad clock, midnight worms, and first bicycles. Some are grotesque, some are raw, and some are funny. All of them have the potential to stick with you long after they're read.
Issue 4 features new poetry and short prose by Judith Arcana, Shaindel Beers, Annette C. Boehm, Russell Brickey, Lucia Cherciu, Krista Cox, Anna DiMartino, Melissa Fite Johnson, Claire Keyes, Michael Koenig, Christina Lee, Danelle Lejeune, Catherine Moore, Forrest Denham Shattuck, Jessica L. Walsh, and Laura Madeline Wiseman.
John Findura offers a writing prompt that turns humans into houses, and Candice Kaup Scioscia offers a code-switching exercise that turns hip-hop lyrics into Shakespearean lines. Zeke Jarvis, Nate Logan, & Jennifer MacBain-Stephens take us inside new poetry collections by Sandra Marchetti, Amy Berkowitz, and Lisa Ciccarello.
Thanks for taking the time to enjoy this final issue of our journal's first year!
2 Comments